With so many stain causing foods and drinks, keeping your teeth sparkling white may be a challenge. Unfortunately, even good dental hygiene and using over-the-counter teeth whitening toothpastes isn't enough to keep teeth their absolute most radiant. That's why we highly recommend our revolutionary deep teeth whitening services.
Kreeb Dental offers in-office and at-home teeth whitening processes, depending on if you want immediate results from an in-office treatment or prefer our take-home whitening kits. Both are exceptionally effective, so it's just a matter of what works best for you.
Zoom! Rated #1 For In-Office Teeth Whitening
Zoom! is our most popular in-office teeth whitening procedure. It works well because the highly-concentrated hydrogen peroxide gel offers immediate results. When light activated, the gel breaks down allowing oxygen to enter the enamel and dentin of your natural teeth. At this point the gel bleaches colored areas without changing the structure of the tooth. By using the Zoom! lamp, the effectiveness of the gel is increased by at least 26 percent. On average, this means you should see an improvement of eight shades in one visit. While Zoom! is the first choice for many of our patients, it is not recommended for anyone under 16, or is pregnant or lactating.
Lasting Results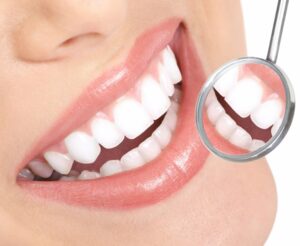 One treatment with Zoom! will keep your teeth forever whiter than before. You will still need to continue with good dental hygiene including flossing and brushing two times a day. Occasionally, to touch-up, you may want to use Zoom! Weekender or Nite White gel.

At-Home Whitening Kits

If you prefer to whiten your teeth in the comfort and privacy of your home, Kreeb Dentistry offers products that are highly effective, most of which the main ingredient is carbamide peroxide. This gel is effective and can give you dramatic results in 30 minutes or less.

The Process

We take impressions of your teeth, which are then sent to a laboratory where your custom trays will be made. Upon your next visit, we adjust the trays for comfort. The rest is simple. You squeeze a small amount of the gel into the trays, slip them onto your teeth and let them sit. Follow our instructions on the length of time to leave the trays in place, allowing the gel to safely whiten your teeth. You will be amazed at the difference! Once again, your smile will be white and radiant.