A porcelain veneer is one of the most popular cosmetic treatments our dental team offers. It's the choice of many because it enhances the beauty of a tooth with minimal invasiveness. In fact, the foundational support of the natural tooth remains intact.

A porcelain veneer is made from a compilation of thin layers of ceramic that covers the tooth by securely bonding to the frontal surface. It is meant for cosmetic purposes only. It's exceptionally versatile in that a porcelain veneer may be placed on one tooth or each of your front teeth.
While porcelain veneers originally were designed to enhance the smiles of actors and actresses of long ago, fast forward 30 years and they have advanced to near perfection. A veneer is nearly as natural looking as an original tooth and virtually undetectable. It blends in easily, as the shape, color and degree of reflection is consistent with the surrounding teeth.
When is a Porcelain Veneer the Right Choice?
A porcelain veneer is used for a variety of imperfections. Because it is placed on top of the tooth, its primary purpose is to whiten your smile or straighten a misaligned or crooked tooth. Many of our patients choose beautifying their smile with one or more porcelain veneers to fix an assortment of unwanted imperfections:
The Process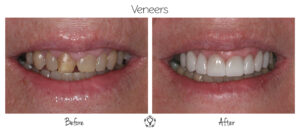 At the hands of our highly experienced dentists, the process is simple and fast. The first step is to take X-rays and, for some patients, impressions. Step two, we make a model and send it to the laboratory where they build the veneer. The turnaround time is approximately 2 to 4 weeks. Once we receive it, you will come in so we may test it for its fit and color. We adjust and readjust until we feel the porcelain veneer fits comfortably and looks as close to your natural teeth as possible. Before permanently securing the porcelain veneer, we remove a small amount of the original tooth's enamel. This allows for the veneer to adhere to the tooth and provides for the needed space for it to fit nicely between the surrounding teeth. We then apply light-sensitive resin between the veneer and tooth. Using a curing light, we harden the resin, creating an extremely strong bond. Now all you have to do is enjoy the radiance and beauty of your smile. Call us today at (704) 875-7200 for a consultation.